Advantages of industrial steel factory


Cost saving, very light weight

All materials for construction of industrial buildings include steel trusses, corrugated iron roofs and screws without the need for cement, iron, concrete, sand, grit or dozens of other auxiliary materials, from which Industrial house jobs help save investors the most.
Construction of Industrial Factory by Steel Structure
In addition, thanks to simple materials, the steel industrial factory is able to stand firm on rough terrain areas, where the soil is loose and prone to subsidence.
Save installation time

If the construction of a traditional industrial factory requires a foundation, then cast a concrete column and assemble each brick and have to go through many other stages to complete, the steel industrial factory just needs to erect the steel rafter. and re-fix it then assembling the auxiliary parts and roofing is complete. Compared with the industrial workshop model built with concrete - reinforcement, the industrial steel model takes only 1/10 of the time to complete.
Steel industrial workshop with high synchronization

Due to the similarity of each item, the processing of steel frame industrial buildings and industrial workshop designs is highly uniform, all rooms are designed and installed in the same way. In addition, it is easy to repair and demolish or install more when necessary.
Wide applicantion

In addition to being used as a warehouse to store production materials, machineries and manufactured products, this steel buildings model can also be used for construction of schools, commercial buildings, houses. Showrooms, supermarkets, houses have high synchronization like dormitories, collectives.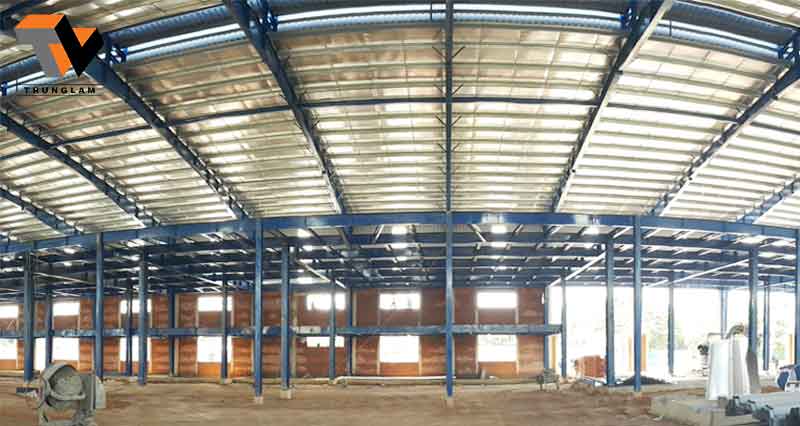 Consultant Design Construction Factory - Trung Lam Company
Recyclable

If the model of an industrial factory is damaged by a natural disaster or the investor wants to demolish it to build a new building, you only need to remove the original parts and most of the materials used to Prefabricated warehouse construction can be reused for other works without being damaged or demolished like industrial buildings built with concrete - reinforced steel.
Consulting construction design industrial factory

In order to make an industrial workshop that satisfies the requirements and satisfies the investor, the factory manufacturing unit should pay attention to the following important factors:
If it is an industrial workshop specialized in producing products, it needs to have a cool and spacious space, which can provide enough natural light and wind for workers.
Make sure there are clear entrances, wide and high enough to facilitate the transportation of materials and goods, or enough for the necessary means of access.
Drawings of industrial buildings must meet the load-bearing capacity requirements of industrial building samples based on the load of vehicles entering and leaving here. Since then, designing and constructing industrial workshops is as safe and secure as possible.
The design of industrial buildings needs to study the wind direction and sunlight direction to make sure the factory is always airy in the summer and not drafts in the winter. Thereby ensuring health for workers in the factory as well as helping to preserve materials and machinery well.
Check carefully the safety and operation mode of the electricity, water, fire prevention and signaling systems ...
Trung Lam followed the Internet